How to create a color scheme in the drawing. In the art world, we often meet designers, illustrators, and graphic designers. People who wake up every morning and, for work, draw, compose, and create images. Most of these illustrators and designers are seasoned, knowledgeable and experienced, and don't need any advice. However, some of them are beginners or designers who are taking their first steps in this world. There are a lot of things to learn before making good illustrations and graphic projects. Today we want to create a color scheme, and therefore the perfect color palette for your works.
The standard color schemes
Maybe you are there, in front of a blank sheet of paper, with your colored pencils or your technical drawing markers, and you don't know which colors to choose for your graphic project. You are probably creating a new logo, redefining the color palette that a company should use from now on for communication, or who knows, you are thinking about the scenography of your next stage performance. How to choose the correct color scheme? Well, maybe you already have a starting color: it could be the historical color of a given brand, the color of an indispensable scenic element of landscape drawing.
How to choose the colors that will make up your palette
There are pre-established schemes to refer to for those who do not know in which direction to move. Everything starts, in fact, from the observation of the color wheel, or rather from the circle pattern that we have studied since elementary school to understand how the secondary and tertiary colors are formed from the primary colors and so on. For example, you could choose similar colors. Suppose the actual color of your project is orange. In that case, it is possible to accompany it with yellow and red or with the colors immediately on the sides of your actual color. An alternative is to use complementary colors, then choose the opposite color in the color wheel: always in orange. Therefore, you should choose blue. What if you need three colors instead? Then you could use the famous ternary color combinations, choosing three equally spaced colors in the color wheel: orange should be accompanied by green and purple.
It should also say that a sound palette could make up not on the combination of colors but the variation of tone or brightness of the same color. You could, for example, opt for a monochromatic scheme with light, medium and dark reds. We specify these schemes are only a starting point: each project is a concept in its own right. Therefore, we have decided to group some valuable general tips for choosing the palette!
Tips for creating the perfect palette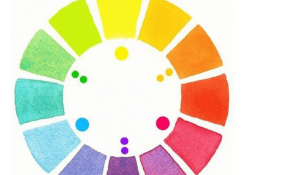 There are so many factors to take into consideration to create a truly satisfying palette. Let's see together which the main ones are!
The psychology of colors
Each color, whether you like it or not, has specific meanings in certain cultures. For example, white, which in the West is mainly associated with purity, in China is the color associated with mourning. It is an example to say that, on a psychological and cultural level, colors should not be used randomly, thinking only of the aesthetic aspect:
Red communicates energy, passion, and enthusiasm.
Yellow is the color of positivity.
Blue transmits stability.
black is associated with death but also with elegance. Better take this into account before using the wrong palette!
Less is more
Generally, a sound color palette consists of 2, 3, 4, 5 colors. Of course, you can also increase the number, but any addition can undoubtedly be a misstep, at least at the general system level. As we have said, each color sends rather precise signals to our brain: adding too many colors, therefore, could send the observer haywire. It is no coincidence that it is in monochromatic environments that there is a more incredible feeling of calm.
Starting with real combinations
It often happens that you see color combinations in "real" life that are perfect—sunset in the desert, a sunrise over a green field, a scene from a film. What works well in real life tends to work just as well in our graphic designs.
Be consistent with your message
What message do you want to convey with your graphic design? An event poster will have to anticipate what the sensations will be related to that appointment, and a dress will have to give sensuality, refinement, or dynamism. A coffee machine will have to be elegant and solid. The colors are chosen, thinking about the psychology of colors, and the context must be coherent with the message to be transmitted, creating the right atmosphere. Well, now you know where to start to create a winning color scheme: you have to try to combine the various colors using colored pencils, markers, or brushes!
Also Read: Painting a pumpkin